The glass is half full – the paper mill is closed for good!
Some good news- depending on how you look at it- comes from the dreadful economy: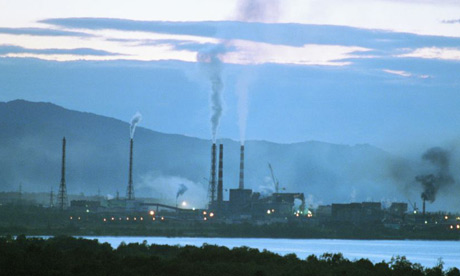 By MIKE ECKEL, Associated Press Writer Mike Eckel, Associated Press Writer – Fri Mar 13, 11:47 am ET
MOSCOW – For decades, it spewed chemicals and foul effluent into the pristine waters of Lake Baikal in Siberia.
For decades, environmentalists pushed for its closure, calling it a shameful blight on the world's largest fresh water lake.
Now, 43 years after its construction, the Baikal Pulp and Paper Mill is closing for good in a breakthrough for Russia's environmental movement, which many believe began with the long battle over the factory.
The owner, Kontinental Management, said Friday that the plant, which temporarily halted production in October, will not restart operations, for financial and technological reasons. Shareholders, which include the federal government and the struggling industrial conglomerate Basic Element, will meet in coming weeks to decide exactly what to do with it, the company said.
"Unfortunately, time is already up for the (factory) and the plant will be never be able to resume production," the company said in a statement posted on its Web site.
"It's good news, of course, though it wasn't completely unexpected," said Marina Rikhvanova, a veteran activist who heads the environmental group, Baikal Wave. Continue reading →